WORKSHOPS FOR PARENTS AND FAMILY



Scroll down for worker and carer workshops
RESTORATION WORKSHOP
FOR PARENTS
THIS TWO-DAY PARENT WORKSHOP IS FREE 
4th Tuesday & Wednesday of most months
| | |
| --- | --- |
| 28 February & 1 March | 22 & 23 August |
| 28 & 29 March | 26 & 27 September |
| 18 & 19 April | 24 & 25 October |
| 23 & 24 May | 28 & 29 November |
| 27 & 28 June | 19 & 20 December |
| 25 & 26 July | |
This two-day workshop was developed by parents with lived experience of restoration. It is co-facilitated by two of our peer workers who have experienced restoration and will tell parts of their stories about before, during an after restoration and connect stories with activities.
Workshop content includes:
staying focused on children's interests and needs
strengthening child-parent relationships
planning for family time to strengthen child-parent relationships and work towards restoration
the importance of parents being actively involved in planning and decision making about their child.
Workshop activities relate to real-life restoration events, including knowing what plans might be in place and starting plans to discuss with caseworkers/case managers.
Register any time and a FISH peer worker will contact you about requirements. The date most suitable for a parent will be decided on availability and the stage of their child protection/OoHC experience.
SOME FEEDBACK FROM PARENTS ABOUT THE RESTORATION WORKSHOP:
"I really enjoyed the course. It has given me many tools and forms to help me with my section 90 journey."
I learned, "That the restoration process is not as easy as go to court and have the sect 90 approved."
"I feel that the group was run very well and it's well planned out. The people running the group were very understanding and explained everything extremely well."
I learned, "How to plan for restoration, family time, transition, keeping records, and building relationships with DCJ."
WORKSHOPS FOR CARERS AND WORKERS



FISH is a not-for-profit organisation with very limited funding to promote family inclusive practice in out-of-home-care in the interests of children, young people and families. We raise funds for support and advocacy through parent-led information, training, workshops & consultation.
 Our workshops for workers and carers focus on building and maintaining good relationships with parents and family of children in care. They promote meaningful inclusion of parents and family in their children's lives and decisions that affect them. We can provide workshops for specifics groups – workers or carers – or mixed groups which can help work on partnerships during the workshop.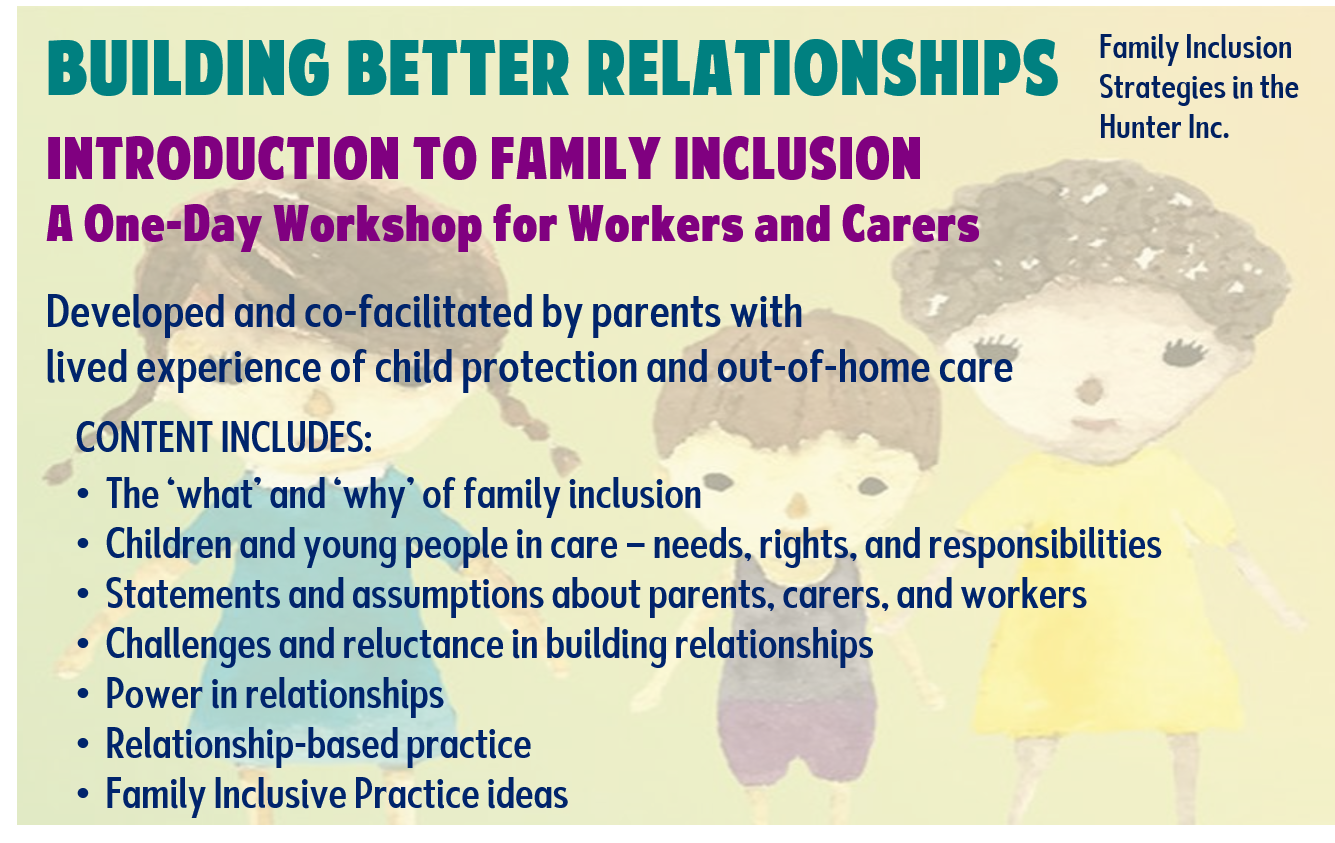 Contact us via email if your are interested in attending one of these workshops. 
We can run-agency-specific workshops: carer-only groups, worker-only groups, or combo worker-carer groups. CALL AND ENQUIRE TODAY

We must have at least 6 participants to run each workshop.
EVALUATION COMMENTS (2022)
"The lived experience of the facilitators at FISH provides unique and valuable training for workers. Their perspective and delivery of training provided an insight that has changed my practice and
understanding of child-focused practice." (youth worker)
"This was a really amazing, high quality workshop. I couldn't recommend more highly to anyone working with families or family members where there may be concerns about a child's safety or well‐being." (social worker & conference convenor)