WORKSHOPS FOR PARENTS AND FAMILY



Scroll down for worker and carer workshops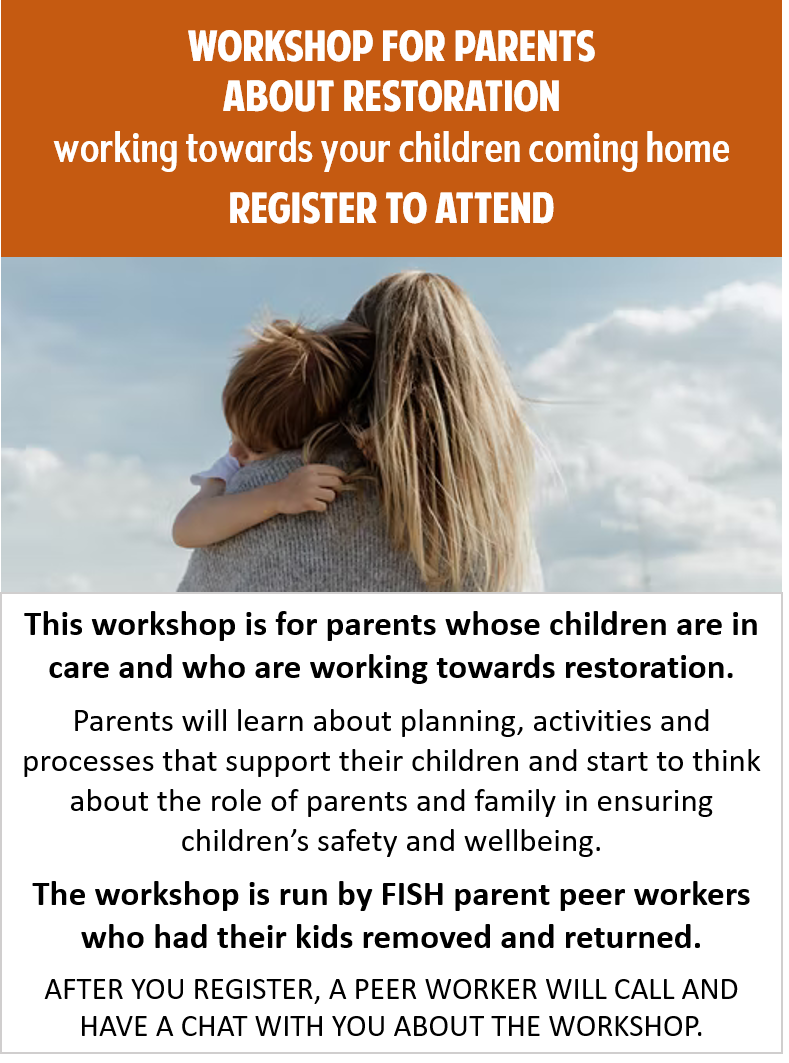 UPCOMING TWO-DAY WORKSHOPS – FREE

OPTION 1: RESCHEDULED:
Mon 29 & Wed 31 August 2022, 10.00–3.00 both days. (previously 15&17 August)

OPTION 2:
Mon 12 & Wed 14 September 2022, 10.00–3.00 both days

RESTORATION WORKSHOP



This workshop is for parents and was developed by parents with lived experience of restoration. It is co-facilitated by two of our peer workers who have experience of restoration and will tell parts of their stories during the workshop and connect them with workshop activities.
The workshop includes:
staying focused on children's interests and needs
strengthening child-parent relationships
how putting thought into family time may help work towards restoration
the importance of parents being actively involved in planning and decision making about their child.
Workshop activities relate to real-life restoration events, including knowing what plans might be in place and starting plans to discuss with caseworkers/case managers.
SOME FEEDBACK FROM PARENTS ABOUT THE RESTORATION WORKSHOP:
"I really enjoyed the course. It has given me many tools and forms to help me with my section 90 journey."
I learned, "That the restoration process is not as easy as go to court and have the sect 90 approved."
"I feel that the group was run very well and it's well planned out. The people running the group were very understanding and explained everything extremely well."
I learned, "How to plan for restoration, family time, transition, keeping records, and building relationships with DCJ."
WORKSHOPS FOR WORKERS AND CARERS



FISH is a not-for-profit organisation with very limited funding to promote family inclusive practice in out-of-home-care in the interests of children, young people and families. We raise funds for support and advocacy through parent-led information, training, workshops & consultation.
 Our workshops for workers and carers focus on building and maintaining good relationships with parents and family of children in care. They promote meaningful inclusion of parents and family in their children's lives and decisions that affect them. We can provide workshops for specifics groups – workers or carers – or mixed groups which can help work on partnerships during the workshop.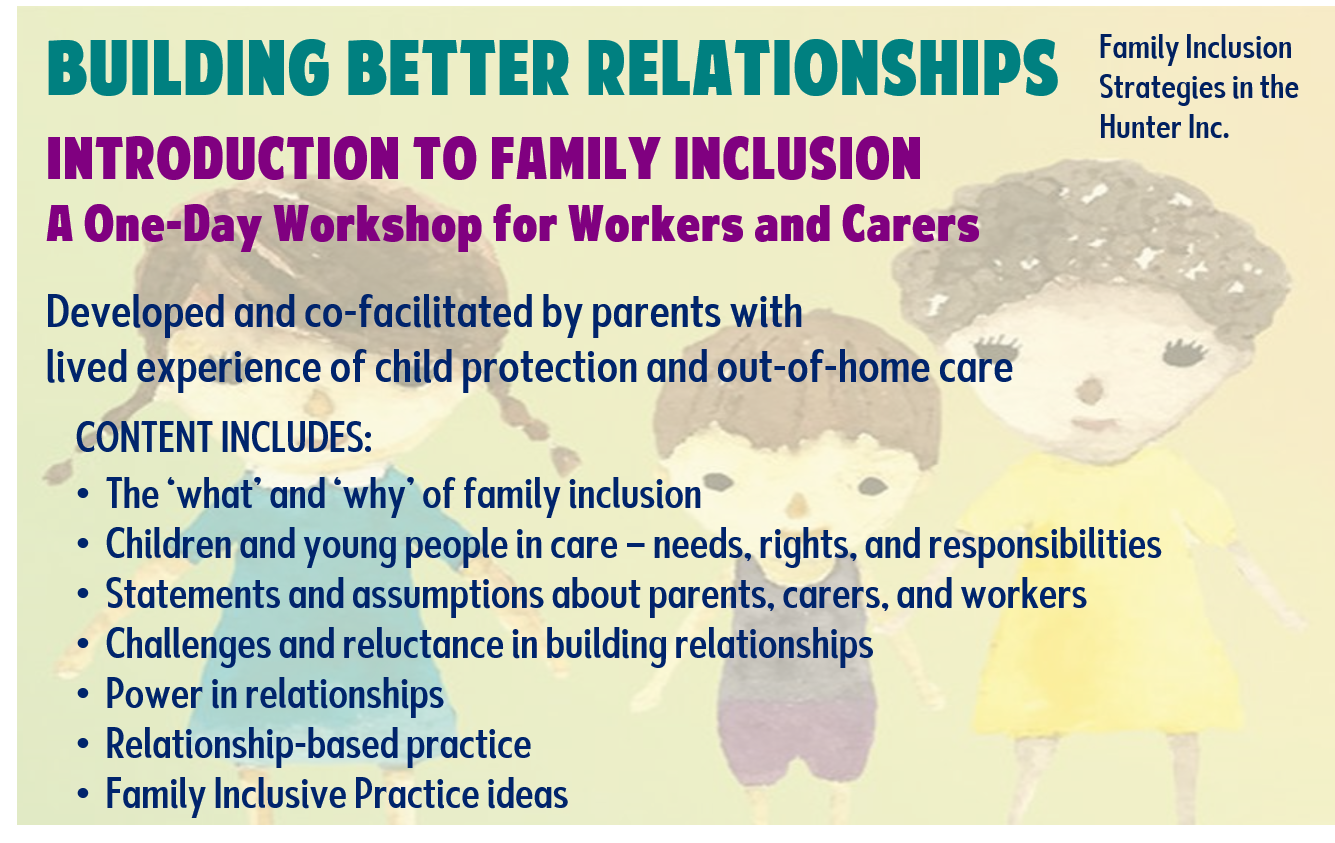 Current dates: (one day workshop)
Wednesday 24 August 2022, 10.00-3.00
Wednesday 21 September 2022, 10.00-3.00 (rescheduled from 29 August)
COST: $300 per participant.
VENUE: Wandiyali, 116 Lake Rd, Elermore Vale
We must have at least 6 participants to run each workshop. We can also run this workshop for a group from the one agency for a group rate. Email us.
WORKER EVALUATION COMMENTS: (2019)
Something new I learned from the workshop… "The scope to which parents could be involved"
"The effect that not including the parents can have on the children and the parents"
"There is always reasons behind a parent's behaviour or how they present. We should look into it more before making judgements and decisions"